---
Blog
Itsycal 0.11.2 is out. This release adds the ability to expand the number of rows showing in the calendar from 6 to 10 so you can see more of your calendar at a time. Either drag from just below the bottom row or use control-j/k to add or remove rows.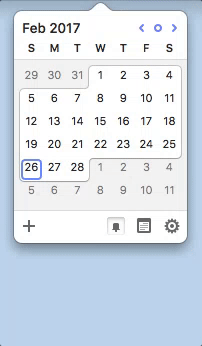 This release also changes the calendar font to be the system font (San Francisco) and includes some important bug fixes. See the release notes.
•
Itsycal 0.11.1 is out. This release expands the Preferences window to introduce some new customization options and to make others more accessible. The release notes are here.
I sort of botched it when I first put out this update. If you've updated and the menu bar icon does not appear when you first launch the app, please re-download and try again.
•
French, Italian, Spanish, & German »
Itsycal is available in 5 languages: English, French, Spanish, Italian, and German. Unfortunately, I only speak one of them. Between Google Translate and the generous help of a few users, I've been able to translate the app into the languages I don't speak.
I'd like to make sure the translations I have are concise, accurate, and idiomatic. I'd also like to have a resource where I can go when I need new or modified translations. So, I'm asking if anyone out there would be willing to help. If so, please email me at mowgliiapps@gmail.com.
•
I now have a Twitter account: @mowgliiapps. Please follow along for updates and news. I promise I won't clutter up your timeline because I hardly ever tweet.
This Twitter account is meant to be a broadcast channel. If you have a question, please use email. I can't provide support over Twitter.
•
Over the years, some kind people have asked me if I accept donations. I didn't before, but now I do. If you'd like to make a donation, you can do that with PayPal or Square Cash. Thank you.
---