Blog
I've received a number of crash reports from users who have upgraded their macOS to Ventura. The common thread seems to be that these users have non-iCloud calendars.
Happily, I have also received pointers from users who managed to get things to work. If you are experiencing crashing after upgrading to Ventura, try this:
Go to System Settings > Internet Accounts.
Remove and then re-add all non-iCloud accounts.
Launch Itsycal.
I hope it works for you.
What is going on? Thankfully, I've also received assistance from a user who located the source of the crash. When Itsycal launches, it queries the operating system for information about your calendar accounts. Itsycal expects each account to have a valid name, e.g. "iCloud", "Google", "Exchange", etc. Ventura seems to always provide a valid name for iCloud accounts, but not necessarily for accounts from other vendors. This unexpected absence of a valid name is causing Itsycal to crash. Removing and then re-adding your non-iCloud accounts seems give Ventura the nudge it needs to be able to provide valid data.
05 Nov 2022
⌘ ⌘ ⌘
UPDATE: The beta is done and Itsycal is now a Universal app. Thank you to everyone who provided feedback.
The latest version of Itsycal (0.12.6) works on both Intel and Apple Silicon Macs. The app is compiled with Intel instructions only but is able to run on Apple Silicon via Apple's Rosetta translation layer.
I'm looking for testers who have an Apple Silicon Mac to try a version of Itsycal that is compiled as a Universal app. Universal apps contain both Intel and Apple Silicon instructions and thus run natively on both platforms.
08 Jun 2021
⌘ ⌘ ⌘
UPDATE: The beta is done and the Zoom button is now live in Itsycal. Thank you to everyone who provided feedback.
I'm looking for testers for a new feature, a virtual meeting indicator and button. It works as follows:
Itsycal scans the text of event locations and notes for links to virtual meetings. If it finds a link, it will show a small icon in the agenda next to the time providing a visual clue that this event is for a virtual meeting. About 15 minutes prior to the event's start time, the icon will turn blue and become clickable providing a convenient link to the meeting.
Currently, Zoom, Google Meet, and Microsoft Teams are supported. The link detection is very basic right now and might miss meeting links. I'm particularly interested in the formats for the various meeting links so I can improve detection.
Please email me with feedback and bug reports. Please do not reply on Twitter since I use email to keep track of issues.
28 Sep 2020
⌘ ⌘ ⌘
Itsycal 0.12.2 is out. The release notes are here.
25 Oct 2019
⌘ ⌘ ⌘
Itsycal 0.12.0 is out. This version requires macOS 10.14 or higher. Version 0.12.1 quickly followed to work around a rendering bug in macOS 10.15. The release notes are here.
24 Sep 2019
⌘ ⌘ ⌘
Itsycal 0.11.17 is out. The release notes are here.
19 Aug 2019
⌘ ⌘ ⌘
Itsycal 0.11.16 is out. This is a bug fix release that fixes garbled characters in event notes and a crashing bug when fetching events. The release notes are here.
17 Jul 2019
⌘ ⌘ ⌘
Itsycal 0.11.15 is out. The main change was to adopt Apple's new notarization scheme for app security. This scheme is optional now, but will be required of all non-App Store apps in the future. There were also a few aesthetic changes and a change I'm hoping will help resolve an issue some users have reported where Itsycal loses track of some calendars or events.
The release notes are here.
30 May 2019
⌘ ⌘ ⌘
Itsycal 0.11.14 is out. This version fixes a couple bugs and makes fetching events more efficient.
The release notes are here.
05 Apr 2019
⌘ ⌘ ⌘
Itsycal 0.11.13 is out. This version adds two new features related to date calculations.
Pressing the # key reports the selected date's offset from today as well as its day-of-the-year number. For example, if today is October 1, 2018 and October 15, 2018 is selected, pressing # will report +14 / 288 because October 15 is 14 days ahead of today and is the 288th day of the year.
The second feature is a repeat count for navigation commands. You can precede a navigation command by a number and the command will be repeated that many times. For example, if you want to jump ahead 7 weeks, you'd press 7 J (or 7 ⇧▼). Refer to the Itsycal homepage for a refresher on the navigation commands. The repeat count will time out after 3 seconds.
Admittedly, these features are sort of esoteric, but I personally find them useful so they're in the app. Maybe someday you'll find them useful too. The release notes are here.
01 Oct 2018
⌘ ⌘ ⌘
Itsycal 0.11.12 is out. This release adds a new preference option for a larger text size. Hopefully this will make Itsycal a bit more accessible and comfortable to use. The release notes are here.
25 Aug 2018
⌘ ⌘ ⌘
Itsycal 0.11.10 is out. You can now view 14 or 31 days in the agenda in addition to the previous options. You can also right-click an event in the agenda to copy the event details. Agenda items are now more compact. For events with long titles or locations, you can click on the event for a popup with the full details. MacOS 10.14 Mojave is coming so I did some work to make Itsycal useable on the beta. The release notes are here.
17 Jun 2018
⌘ ⌘ ⌘
Itsycal 0.11.8 is out. The new macOS 10.13 contains a bug which breaks calendar localizations for many languages. This version contains a hack that restores a decent number of those broken localizations. Hopefully Apple will issue a real fix for this issue. The release notes are here.
11 Oct 2017
⌘ ⌘ ⌘
Itsycal 0.11.7 is out. This version has a fix and a new feature. The fix is for a bug in the timer code that chewed up extra CPU cycles. The feature is that you can now toggle the dots on the calendar. Some people have events every day. In this case, the dots add no information. In fact, they only add clutter. This sounds obvious, but it never occurred to me since I don't have a busy calendar. So, I'm grateful when people point stuff like this out to me. The release notes are here.
04 Oct 2017
⌘ ⌘ ⌘
Itsycal 0.11.6 is out. You can now toggle the location field for events in the agenda using the keyboard shortcut . (period). For events occurring today, the event will be dimmed when its end time has passed. The release notes are here.
07 Aug 2017
⌘ ⌘ ⌘
Itsycal 0.11.5 is out. This release adds Simplified Chinese localization. The release notes are here.
19 Jul 2017
⌘ ⌘ ⌘
Itsycal 0.11.4 is out. This release makes the first substantive change in Itsycal's appearance since it was released almost five years ago. It also adds a dark theme which can be enabled through the Preferences panel. The release notes are here.
29 Jun 2017
⌘ ⌘ ⌘
While Itsycal's appearance has gradually evolved over time, it looks remarkably similar to the way it did five years ago when it first came out:
https://dribbble.com/shots/776433-Itsycal
Now it's time for something different. I'm experimenting with a flatter look as well as the ability to switch to a "dark" theme. Please check it out and let me know what you think:
https://s3.amazonaws.com/itsycal/Itsycal-themes-beta.zip
13 Jun 2017
⌘ ⌘ ⌘
Apple has just released the first beta version of macOS 10.13. If you are interested in testing Itsycal on the new OS, please see this Github thread:
https://github.com/sfsam/Itsycal/issues/57
08 Jun 2017
⌘ ⌘ ⌘
Itsycal 0.11.2 is out. This release adds the ability to expand the number of rows showing in the calendar from 6 to 10 so you can see more of your calendar at a time. Either drag from just below the bottom row or use control-j/k to add or remove rows.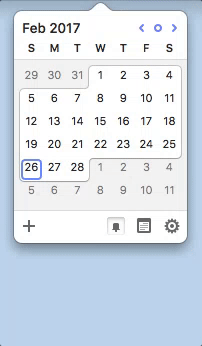 This release also changes the calendar font to be the system font (San Francisco) and includes some important bug fixes. See the release notes.
24 Feb 2017
⌘ ⌘ ⌘
Itsycal 0.11.1 is out. This release expands the Preferences window to introduce some new customization options and to make others more accessible. The release notes are here.
I sort of botched it when I first put out this update. If you've updated and the menu bar icon does not appear when you first launch the app, please re-download and try again.
04 Feb 2017
⌘ ⌘ ⌘
French, Italian, Spanish, & German
Itsycal is available in 5 languages: English, French, Spanish, Italian, and German. Unfortunately, I only speak one of them. Between Google Translate and the generous help of a few users, I've been able to translate the app into the languages I don't speak.
I'd like to make sure the translations I have are concise, accurate, and idiomatic. I'd also like to have a resource where I can go when I need new or modified translations. So, I'm asking if anyone out there would be willing to help. If so, please email me at mowgliiapps@gmail.com.
27 Jan 2017
⌘ ⌘ ⌘
I now have a Twitter account: @mowgliiapps. Please follow along for updates and news. I promise I won't clutter up your timeline because I hardly ever tweet.
This Twitter account is meant to be a broadcast channel. If you have a question, please use email. I can't provide support over Twitter.
24 Jan 2017
⌘ ⌘ ⌘
UPDATE: I've turned off donations. I'm very appreciative for all the generous people who donated over the past several years.
Over the years, some kind people have asked me if I accept donations. I didn't before, but now I do. If you'd like to make a donation, you can do that with PayPal or Square Cash. Thank you.
01 Jan 2017